Meet Sam; the education sector's first ever 'virtual' safeguarding consultant, lending a cyber hand to busy school and academy leaders in meeting all the latest requirements to protect children and adults from abuse.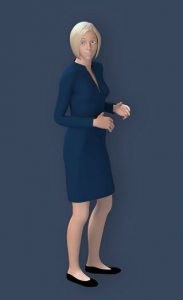 Living inside Safeguarding Auditor, a brand new online tool from SSS Learning that audits a school or academy's safeguarding provision, Sam takes the journey with senior leaders, popping up to share tips and advice along the way.
Regularly undertaking an audit is an essential element of fulfilling the safeguarding remit in educational settings. Safeguarding Auditor allows schools and academies to audit their provision step-by-step, complete required tasks and evidence full compliance to the OFSTED requirements, without the need for an external consultant.
Live updates from SSS Learning's specialist safeguarding team ensures that audit content is updated whenever changes in legislation, statutory guidance and/or inspection frameworks are issued, ensuring schools fully comply with the latest requirements.
SSS Learning has virtualised top safeguarding consultant
Sam Preston to mentor schools in their compliance journey.
Employing a real safeguarding consultant can cost schools over three times as much as the new tool just for a single audit. And if the following month, legislation is updated or changed, schools could fall foul of new safeguarding requirements. With Safeguarding Auditor, leaders are not only provided with a rigorous list of questions and considerations, but also the text and avatar feature to question their methods and advise on solutions.
As the 2018 update to Keeping Children Safe in Education coming into force on 3rd September 2018, places greater emphasis on ensuring safeguarding policy content considers the bespoke setting & needs of every school or academy, it is imperative that senior leaders take measures to ensure they comply.
From experience of coaching and auditing hundreds of schools and academies over the years, Sam Preston, Safeguarding Director at SSS Learning, said: "Digitising the audit process and handing the power to leaders to conduct their own, is absolutely the next logical step. To drive standards in our time poor society, we increasingly look to the internet to save time and resources. This tool will revolutionise the process and focus face-to-face consultant time on solving more specialist and complex safeguarding issues."
Each time an audit is completed, it is stored, providing an audit trail which enables demonstration of progress to governance and can be used as evidence of compliance during an OFSTED inspection.
"Automating the audit process not only keep overheads down, but makes sure schools are not left with out of date information on whether they comply with the very latest safeguarding requirements due to a lack of updated information" says SSS Learning's CEO, Jon Case.
Commenting on her virtual self, Sam said: "As many of us jovially interact with artificial intelligence such as Apple's Siri and Amazon Echo's Alexa every day, building a friendly avatar into the tool is about connecting with our customers and delivering an interactive experience."
And remember, "Safeguarding is a limiting judgement. Don't let your safeguarding provision negatively affect your inspection outcome" advises Sam.
To purchase Safeguarding Auditor for your nursery, primary or secondary school or academy, please visit www.sssaudit.co.uk for more information or call +44 (0) 29 2059 7000. Please follow us on Twitter (@SSSLearning and @Sam_SSSLearning) or on Facebook for our latest news and product developments.
Please submit your comments below.
Share your expertise
Do you have something to say about this or any other school management issue which you'd like to share? Then write for us!
Share this article