ADVERTORIAL
All copyrights belong to The Happy Brain Co Ltd 2023
What a devil of a job I had a few years ago, dealing with a 10-year-old lad who, quite simply, believed he was a 'bad kid'. Adrian was one of the first kids in Class 5 to catch my attention during a Happy Brain™ delivery day. He displayed unruly behaviour, shouting out and generally disagreeing with everyone and anything. Physically, he was loose-toned in his movements with his head tilted off towards his left shoulder; he seemed to have little control over his physiology yet was quite tense. Verbally, he was quick and articulate for his age, though his vocabulary was negative and reactive. Emotionally, he seemed upset, defensive/offensive, and unable to deal with any perceived unfairness during the day and he seemed to be hurting.
Sometimes, when faced with a prevailing attitude of 'I can't do this, that, or anything, and I don't like this, that, or anything', it helps to change the objector's focus of attention by enlisting their cooperation. So, I asked Adrian to help me demonstrate an activity in our Calm Confidence Kit; Power Up.
He stood at the front of the class and did the opposite of everything I asked of him. I joked about his polarity response and moved on. "Thank you, Adrian, you can sit down now" as I gestured for him to join the seated class. He sat down on the very spot he had been standing "Well you said sit down," he challenged, with a literal interpretation of my instruction. Note: I suspected this was his behavioural stance rather than true literal interpretation, which of course some children do make.
"He used to be fine, until Year 2," confided the teacher during lunch break. "Something seemed to change around that time, and he has become a very naughty boy." I made a mental note that the teacher had labelled the child's identity as naughty – rather than specific behaviours – which didn't give the child anywhere positive to go. Behaviours can be modified whereas identity labels tend to hold people stuck.
After lunch, the final Happy Brain™ activity was to have the children visualise what the inside of their smart-thinking, happy brains might look like. This exercise is metaphoric, creative, expressive, and designed to celebrate difference and uniqueness. Once a clear image, sound or feeling was imagined, the children each began drawing their personalised Happy Brain, and the class soon got busy with colours, shapes, patterns, words, and illustrations. As a generalised observation of this exercise to date, I have often noted that girls seem more inclined to draw pastel- coloured hearts inside their imaginary brains, with special compartments for friendship and love. Whereas boys tend to favour drawing pulleys, levers and use more primary colours.
Adrian drew a spiky mark around the top and outer edges of his brain template and then sat back in his chair, crossed his arms, and announced, "I can't do this." Finding my first opportunity to work one-to-one with him, I pulled up a chair and sat alongside him.
We chatted about his 'brain' through the lens of me being a mind coach. I was curious, interested, and I gently began to lead his attention using NLP Milton Model language, which focuses on useful suggestions. "What, until now, has stopped you drawing your happy brain?" I asked.
That powerful phrase, 'until now', seemed to work, as he appeared deep in thought for a moment before revealing a nugget of key information: "I have the devil inside me," he replied.
Note: Many parents, teachers, adults, or friends would at this point, tell him not to be silly or that he was wrong. Others may even agree with him. In fact, you might observe your own response to that statement. But I did not pay so much attention to the fierce words because staying within his reality was key. Adrian was simply expressing a limiting belief. "Cooool," I said, as he gave me a look of suspicion. "So where, on the paper, will you draw that little red guy?"
Now at this stage, I most wanted to validate his narrative and belief to stay in rapport, but at the same time I used magical Milton Model language to begin to trick his mind. "That little red guy" did the trick. The word 'that' is such a simple way to dissociate someone from an unhelpful picture inside their mind's eye and conversely, we can move mind-pictures closer by saying 'this'.
And by replacing the word 'devil' with 'little – red – guy' and using a matter-of-fact intonation, I began to unlock his potential to be free from his scary and limiting imagination.
Suddenly, Adrian jolted forward into full drawing mode, released from whatever thoughts had been holding him stuck. Note: Sometimes, to change the emotional state of the person feeling helpless or stuck, all we need to do is give their mind somewhere new to explore.
For the first time that day, he had become focused and on-task. Soon a red, devil- like figure began to emerge on the paper in front of him. His illustration included a pitchfork, a black cloud, rain, and lightning!
He sat back and gave me a confused look that seemed to ask a question and answer a fear simultaneously. "I told you so…"
"But where is the balancer?" I asked, explaining some basic physics about opposing parts. More language magic – my statement left no room for him to disagree because it not only 'presupposed' there was a balancer, but it was also backed up by science. I waited until his eyes stopped moving around (we call these 'eye-accessing cues') as he was searching inside his mind for 'the balancer'.
He found it! "A golden angel," he said, "with golden sunshine beaming down".
And at that very moment his little face illuminated, as I gently touched his left shoulder (closest to me), smiled, and made a strong sound of 'wowwwwwwww' this multi-sensory anchoring provided his nervous system with a kinaesthetic message that associated his happy feelings and happy thoughts, to my touch and sound. I wanted to anchor this moment of delight because Adrian had discovered something that had previously escaped his awareness. Effortlessly, with great focus, care, and attention, he drew his 'balancer'.
Together we admired the two equal-sized compartments of balance inside his imagination now expressed on the paper in front of him.
"Didn't you know?" I asked in a surprised voice while pointing to his picture "most people have occasionally had a thought just like that one you had about the little red guy? Thank goodness you have discovered this golden angel!
My voice carried words in a dissociated past tense when referring to 'that' little red guy (devil) and into associated present/future for 'this' golden angel.
At last Adrian appeared much calmer and less tense and for the first time all day, he offered a positive contribution. "Can I show my drawing to the class?"
As the day came to its end, the class assembled on the mat, all holding their wonderful and various Happy Brain drawings for a class photo, Adrian stood up as my first 'sharer'. Quietly and methodically, he began to describe the imagined workings of his mind, and as he did this, I gently re-touched the 'anchor' on his left shoulder and repeated the 'wowwwwwwww' in the same tone as I'd previously used.
Just to remind his nervous system of the good feelings we had previously associated to the delight of discovering his golden angel.
The children and teachers listened intently as he described how he had felt opposing parts inside his brain – a devil and an angel. He was finally connecting to his social group by being seen and heard – this time in a positive way.
I asked the class: "Put your hand up if you have ever experienced something just like that little red guy [pointing to the devil on the paper] inside your mind" and as a sea of hands rose in front of us, including that of the class teacher. Adrian's face flushed into a beaming smile. I suspect that until that moment, he had believed he was alone in his tormenting beliefs related to that little red guy.
We chatted as a whole group about the importance of looking for 'balancers' inside our heads. "How many of you can ride a bike?" I asked for class involvement through a show of hands. "Because you'll fall off if you stop peddling, won't you? So, we must keep going to find balance – just like Adrian did, even when he didn't feel happy. He kept going until he found a happier balance!" The children all seemed to
understand the metaphor. "And how many of you could ride a bike when you were aged two?" No hands were raised "So how did you get good at peddling and balancing?" "Practice!" They called in chorus.
"Good point," I said, "because whatever you practise, you get good at. So, let's practise looking for Happy Brain balancers inside our minds, shall we?" A resounding 'yes' was the reply.
To conclude the day's activities, I helped the children relax with Balloon Breathing and Body Balance (two activities from our Calm Confidence Kit) and then asked them to imagine floating forward through time to visit their future selves two weeks from now. I future-paced their attention by asking: "How much smarter and happier have you already become because of the two whole weeks you have been practising Balloon Breathing and Body Balance AND looking for Happy Brain balancers?"
Adrian was now sat upright, symmetrical, centred and smiling – so much happier than he had been earlier that day. Of course, in this situation, I didn't get to influence the systems he lives within – home, school, family, friends, etc. But I did get to challenge a limiting belief that had been holding his identity stuck.
Here is his drawing: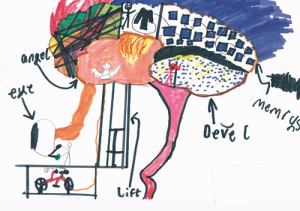 About the author:
Kay Cooke is a Wellbeing Consultant, Coach, Trainer, Author, and MD of The Happy Brain Company which offers a wide range of educational and corporate resources and packages to people of all ages. She is also a Master Trainer of NLP and Founder of a specialist application of NLP: Happy Brain – next generation thinking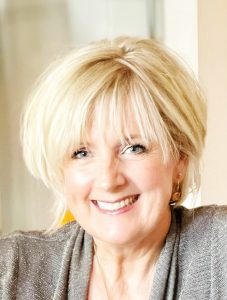 t. +44(0)7876 228157
e. kay@thehappybrainco.com
w. www.thehappybrainco.com
Please submit your comments below.
Share your expertise
Do you have something to say about this or any other school management issue which you'd like to share? Then write for us!
Share this article