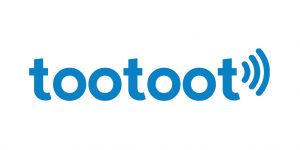 North West based tootoot, creators of the award-winning anti-bullying app for schools, colleges and universities, has successfully raised over three quarters of a million pounds in Series A investment. The app, which has already helped over a quarter of a million children, is also being developed for sports organisations and the workplace to help stamp out harassment.
Launched in September 2015, the tootoot app was conceived by CEO and co-founder Michael Brennan, following his experience of bullying and cyber-bullying while at school. At least half of suicides amongst young people relate to bullying, and the World Health Organisation states that suicide is the second leading cause of death among 15-29 year olds, and reports from Bullying Statistics find that at least half of suicides among young people relate to bullying. To help give young people a way of addressing this, Michael, together with co-founder and tech-expert Kieran Innes, created an app that allows pupils to anonymously report concerns such as bullying and harassment.
The ability to report bullying anonymously is a key aspect of the app; half of the people bullied in the past year have never told anyone due to fear, embarrassment or lack of faith in existing support systems (Ditch the Label's annual survey 2017). Schools' ability to intervene early in the bullying process is also crucial; the Mental Health Foundation states that 70 per cent of children and young people who experience a mental health problem have not had appropriate interventions at a sufficiently early age.
Tootoot CEO and co-founder Michael said:
"Our purpose as a company is to give young people a way to raise issues, and give schools the right tools to intervene early and address these issues. To us it's vital that schools are able to measure the right things, and I know from personal experience that wellbeing and academic attainment go hand in hand. We're lucky that our new investors believe in the importance of a tool like this, as it gives us the ability to continue our growth and introduce tootoot to new markets to support the mental health and wellbeing of adults as well as young people."
Developing the app alongside teachers and education governing bodies to ensure it provided a simple and safe way for schools to manage and address the concerns and ensure the wellbeing of their students has led to immediate impact. Since its launch in 2015, tootoot has supported thousands of schools globally, giving a voice to a quarter of a million young people, enabling over 14,000 staff to support their students and resolve over 20,000 reported concerns.
Chris Hopkinson, non-executive director of AO.com and investor, said
"It's important for investors to look for more in a company than an idea that can make money. If you can get behind a company and a product that have a strong social impact then that's investment at its best. The personal experience and thought that lies behind tootoot means that a relatively humble app is already helping to save lives."
A workplace version of the app aims to address the serious issue of harassment by making it easier for people to report their concerns without fear of being stigmatised, and by helping companies be able to effectively support the wellbeing of their staff. With a recent YouGov Poll (for the TUC), finding that 29 per cent of people have been the victims of workplace bullying and a UNISON study finding that nearly one in five people face cyber-abuse at least once a week, the need for safe and effective methods of tackling harassment are clear.
Sandy Lindsay (MBE), Founder & MD of Tangerine PR & The Juice Academy, and investor, said
"Having experienced a small amount of bullying myself at school, I do remember the feeling of helplessness. And the difference then was that we could escape to our families at home – young people nowadays can never get away from bullying as it's done on their mobile devices, all hours of the day and night.  I am very involved in the world of education and skills as chair of Skills groups for the IoD and NWBLT and I know how vital school attendance and engagement is – 18% of school absenteeism is caused by bullying and so this app is a vital tool in supporting our next generation."
Terry Flanagan (MBE), former Great Britain rugby league player & Oldham Captain, tootoot Chairman and Investor said
"We're all becoming more aware of the impact of bullying and harassment, not just in schools but in sport and across workplaces and society as a whole so supporting a tool that gives people a voice and helps schools and companies to prioritise mental health is an easy decision to make. For me it is not just about the solution, it's the people making it happen. Michael, Kieran and the team are personally invested in making a real difference, and this means we're involved in a journey that's both transformative and rewarding."
For more information, visit www.tootoot.co.uk
Please submit your comments below.
Share your expertise
Do you have something to say about this or any other school management issue which you'd like to share? Then write for us!
Share this article