The Importance Of Healthy Catering For Children, And How To Achieve It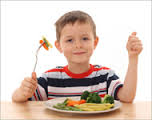 The eating habits that you establish during the early years of childhood will follow you through life. A child who is encouraged to indulge on junk food, loaded with calories or high in sugar, is statistically more likely to maintain that diet into adulthood. The repercussions this causes should more or less go without saying. It is imperative therefore that a balanced, healthy diet is persuaded from a young age — and the best place to begin is at school.
A canteen that provides a balance of nutritious healthy food can set a child on a positive path for the rest of their life. It is a crucial duty that every school should be performing, and to the highest standard possible. The effects it can have if a child is not able to gain (or maintain) a healthy diet range from the developmental to the psychological. It is an important part of ensuring physical growth and strengthening the immune system, preventing future health risks like diabetes, cancer and strokes. A School Food Trust study also suggests that children who eat healthy are more likely to do better in education as it improves concentration and behaviour.
There are basic nutritional standards that schools must meet in their canteens according to the aforementioned School Food Trust. These range from the inclusion of at least two portions of fruit and vegetables with every meal to the exclusion of fizzy drinks and confectionary. However, there is far more that schools can (and should) be doing to encourage children to eat healthy.
One of the biggest challenges that school catering faces is that kids simply don't like the cafeteria experience. Researchers in the past have found that pupils shun school meals because of busy halls and long queues that cut into their lunchtime social activities. Thankfully, there are case studies aplenty that demonstrate how easy it is for schools to improve their cafeterias, thereby promoting a healthier diet among their pupils. The ideas can be as simple as turning on the radio, staggering queuing and doing a bit of interior design to make the place look better.
But where school catering often needs to improve in order to promote healthy eating among children is in, well, the catering itself. The amount of schools that stock tasty meals made from locally sourced, high quality ingredients for instance are few and far between. This is something that urgently needs to be addressed. Encourage your school community to become hands-on in the process of planning a menu too, and give your students a platform to suggest what improvements can be made. They are your customers at the end of the day.
Making amendments to improve both the quality of the foods offered by your school canteen and the environment of the canteen itself are not easy tasks, but they are important. Healthy eating provides a foundation to a better quality of life in terms of both physical and mental development. What happens in the canteen is almost as important as what happens in the classroom
Jonathan Hatton – Jonathan is the head editor for Bexleys catering in Liverpool, UK. Bexleys catering have been involved catering sector for well over 15 years, providing a wide range of catering needs for schools, companies, events and more.
Please submit your comments below.
Share your expertise
Do you have something to say about this or any other school management issue which you'd like to share? Then write for us!
Share this article