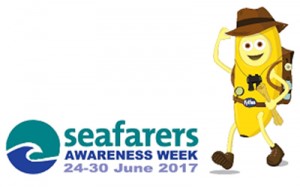 24,000 primary schools across the UK are being invited to ask their pupils: 'How does a banana get to your lunchbox?'
The question forms part of an educational campaign run by the charity Seafarers UK in partnership with Fyffes. It will encourage children to think about the maritime world and how 95% of UK imports come by sea, including their favourite fruit, with the UK eating more than five billion bananas every year.
Freddy Fyffes, the cartoon character, stars in a free fun activity sheet aimed at five to seven year olds, for use in the classroom or at home. Freddy travels from a banana farm, across the sea, to Fyffes' ripening and distribution centres, then on to greengrocers and supermarket shelves.
It is hoped that even the youngest school children will be able to learn about where things come from and the UK's reliance on seafarers and ships.
Nick Harvey, Campaigns Manager at Seafarers UK said: 'As an island nation, the UK has always depended on seafarers, shipping and the wider maritime industry for our wellbeing and prosperity. It surprises most people that 95% of everything we import comes by sea, including much of our food. '
Children are being encouraged to dress up in nautically-inspired costumes during Seafarers Awareness Week, 24-30 June, with photographs going into a free prize draw to win £100 – plus a free shipment of bananas for their school!
For more information on the 'Journey of a Banana' campaign or to request free KS1 materials, visit www.seafarersweek.uk/schools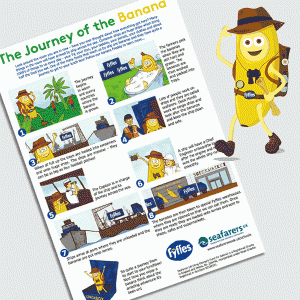 Seafarers Awareness Week was started by Seafarers UK in 2010 as an annual campaign to promote the vital role seafarers play in UK and global economies. More than 1.5 million seafarers are employed worldwide, of which 70,000 are from the UK, where the wider maritime industry supports 240,000 jobs. www.seafarersweek.uk
Seafarers UK is a charity that since 1917 has been helping people in the maritime community, by providing vital funding to support seafarers in need and their families, across the Merchant Navy, Fishing Fleets, Royal Navy and Royal Marines. www.seafarers.uk
Fyffes is a leading importer and distributor of fresh produce: fruit, vegetables, flowers and plants. www.fyffes.com
For further information, interviews and features please contact:
Katherine Winfield, Communications Executive, Jeanius Consulting Ltd
Phone 01908 272853, email katherine@jeaniusconsulting.com
Nick Harvey, Campaigns Manager, Seafarers UK
Phone 020 7932 5969, email nick.harvey@seafarers.uk
Please submit your comments below.
Share your expertise
Do you have something to say about this or any other school management issue which you'd like to share? Then write for us!
Share this article