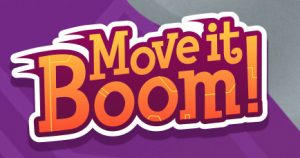 Leicestershire playground and outdoor equipment specialists Red Monkey Play is proud to be supporting the Move It Boom initiative organised by Leicestershire Partnership NHS Trust (LPT). To get the event up and running – literally – Red Monkey Play took part in a mascot's race alongside the Trust's five other partners.
After a warm-up at Leicester's Town Hall, the Red Monkey mascot headed to a nearby primary school and took part in some fun activities with the school children, before arriving at The Grove in Braunstone for a celebration event.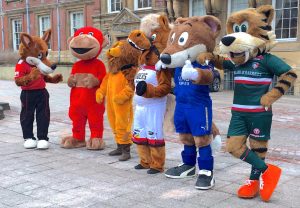 Encouraging schoolchildren to keep active and express their imagination is a key part of Red Monkey Play's ethos. The company has over 20 years' experience designing and installing playground equipment, all of which is created within national curriculum standards and aims to make physical activity fun and enjoyable for school pupils.
Simon Winfield, Director at Red Monkey Play, said: "We are delighted to be supporting Move it Boom this year, as getting kids active is at the heart of everything we do. Our Red Monkey mascot certainly enjoyed the race and it was a great opportunity to teach the children our new game! Initiatives like Move It Boom are a fantastic way to encourage pupils to keep active and that it's more than just the lessons that they have at school. We are delighted to be showing our support this year."
The Move It Boom initiative is now in its third year. The website is now live and pupils can win points for their school by logging their physical activities on the Move it Boom website (www.healthforkids.co.uk/moveitboom). These points will enable the pupils to build and upgrade their own virtual robot. The more activities the pupils log, the more advanced their robot will become, and the more points that will be added to their school's total. During the last event in 2016, over 47,000 activities were logged from over 200 primary schools across Leicestershire.
As an incentive for local schools to get involved, Red Monkey Play has donated £1,000 worth of wooden playground equipment for the winning school, which will be announced on 6 July.
"Our equipment is designed to help pupils express their imaginations and enables them to build the skills they'll need for later in life," Simon explains. "Over the years, we've worked with schools of all ages and it's always such a great reward seeing the difference that the equipment makes to the pupils and the school's space."
Move It Boom runs until 29 June. More information can be found on the initiative's website, www.healthforkids.co.uk/moveitboom, and for more on Red Monkey Play's work and ethos, visit the company's website: https://redmonkeyplay.co.uk/
Please submit your comments below.
Share your expertise
Do you have something to say about this or any other school management issue which you'd like to share? Then write for us!
Share this article